Beginning of summer is a perfect time not only for football but for home repairs. We at Vikiwat have prepared for you a special range of products that will help you make your home renovation.
Our product selection includes electric materials (cables, junction boxes, sockets, switches and others), measuring devices, hand tools, electric tools and LED light bulbs.
Summertime is a great time to enjoy outdoors. But your comfort at home or in the restaurant can be disturbed by annoying insects. That's why in our brochure we offer you an interesting article about how to fight insects and along with that you can check our best seller products as mosquito killer lamp and Mosquito Magnet traps.
We haven't forget about the football fans. If you take some of our Strong branded TVs, you will get a Heineken beer keg as a gift.*
Take a look at the new brochure here>>>>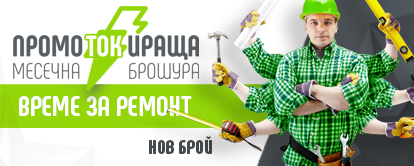 The promotion period starts from 13 June and ends on 13 July and is valid for online purchases on our platform vikiwat.com, as well as for our physical store in Plovdiv city, 3 Mostova str.
For more information about the "Beer keg gift" campaign, please click here>>>.